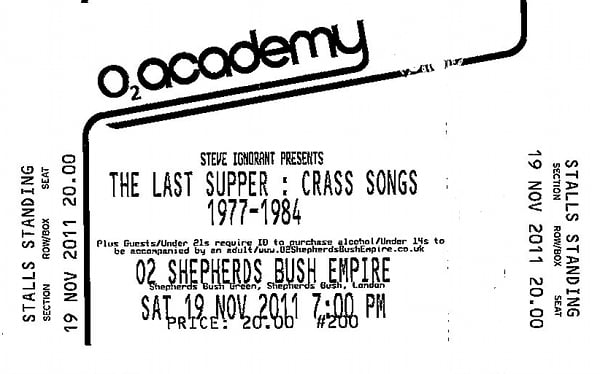 So here it is then - the final date for the final gig, it's so weird looking at it knowing it's going to be the last time I ever perform Crass songs live on stage. I know that was the idea behind this Last Supper tour, but to see it in black and white in front of you like this really makes it final. I know that every gig I do is special and that me and the band put 1000% into every performance, but I have to admit to you all, this one will be special.
If you're thinking of coming, bring some tissues - it's gonna be emotional.
The Last Supper
O2 Shepherds Bush Academy
London
Saturday 19th November.  Doors 7pm
Special guests: The Cravats
(more to be announced.  and probably some unannounced ones too.)
Tickets £20, on sale tomorrow (17 Feb) from Ticketweb or the Southern web shop - UK tickets or if you live in Europe, use this link.
Thanks. Steve.